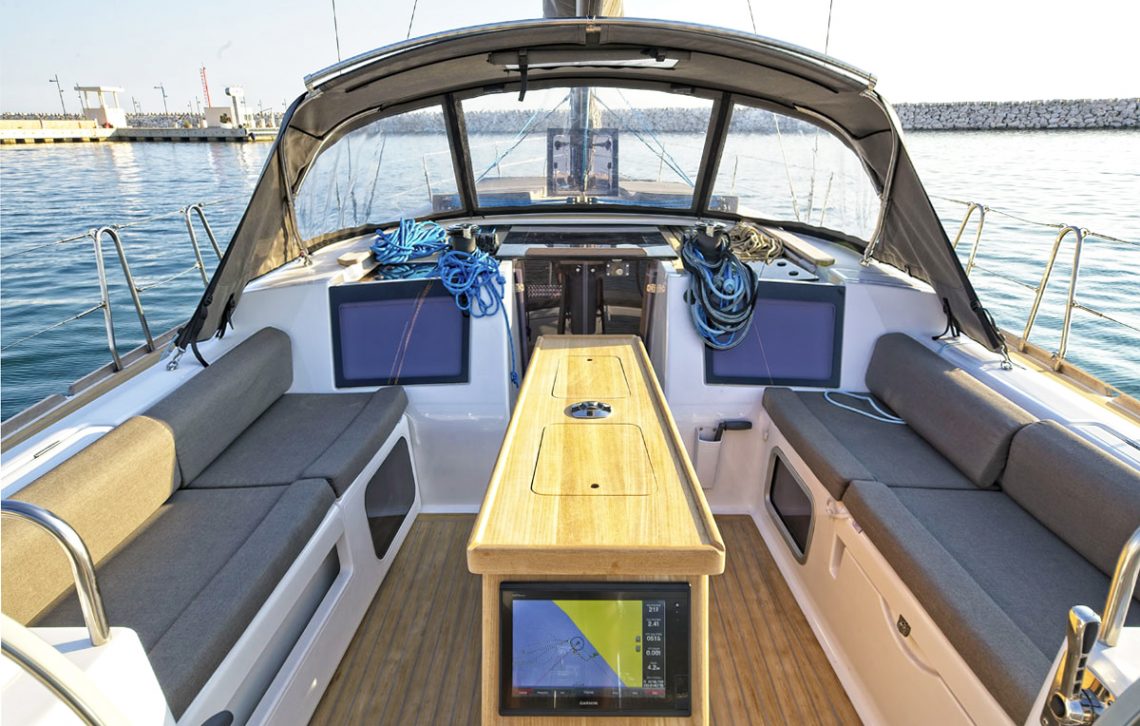 Organisation on the boat – a place for everything and everything in its place
23/11/2022
It doesn't matter how big your boat is. The stowage options on board never seem to be enough. Some shipowners even insist that for every object that goes on board, another must necessarily disembark. This is the time to be organized and creative. So let's see a series of solutions that can make life on the boat easier and help keep everything in order.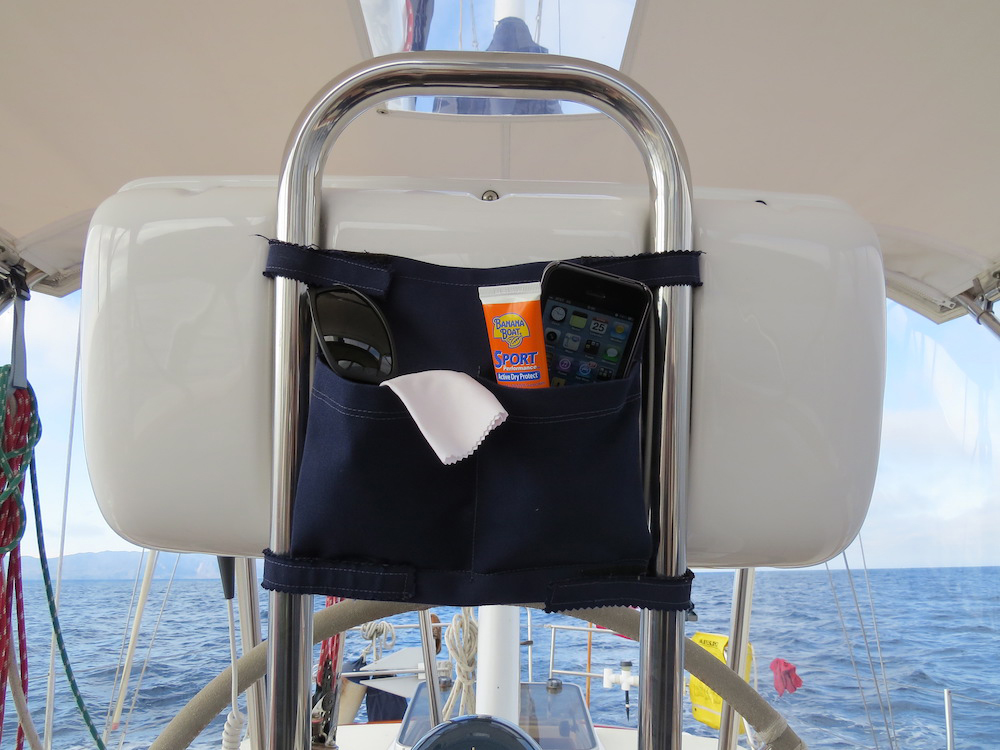 Creating new spaces in the cockpit
When it comes to the organization of the boat, we immediately think of the spaces as they are made by the lines of the boat, its ergonomics, its volumes and its fittings. However, with a trained eye and experience on board it is possible to create additional spaces. For example for all those accessories such as sunglasses, smartphones, sunscreens, cigarettes and lighters, sailor knives which, once placed, always slide freely on shelves, tables and seats with the risk of falling into the water, getting lost, breaking or however hamper the maneuvers, you can create special pockets in fabric, old sails or marine fabrics such as Sunbrella. These flexible compartments can be configured to your liking to hang in the cockpit around the compass binnacle, near the winches or near the handrails. Thanks to these storage pockets, the cockpit will always be tidy and clean and it will be easy to find what you need at the right time.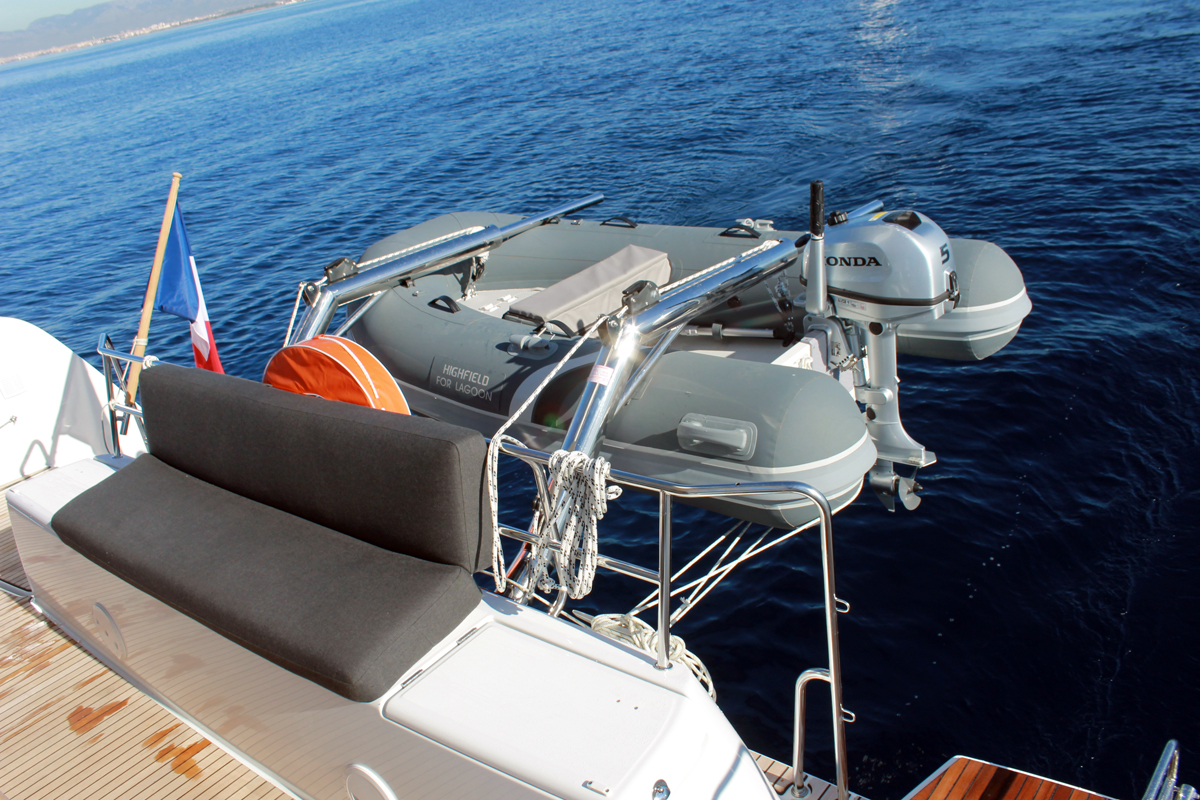 Handling the tender and other heavy components
Many shipowners, after having spent years struggling to stow and move the dinghy manually, decide to equip their boat with a special davit to solve the problem. In this way, leaving the tender always hanging on the davit also frees the deck from the stowage of the tender which always occupies a certain space and hinders movements. Davit can also be useful for moving and hoisting other bulky and heavy components on board, such as the outboard, fuel cans, water tanks, etc. Among the most common on the market are the classic stainless steel door davits, with pipes of different diameters, to be chosen based on the weights to be managed. For example, a crane with a diameter of 6 centimeters can easily and safely handle loads up to 170 kilograms. Then there are aluminum davits, as well as fixed and rotating models and even telescopic davits, with which to reach even more distant loads with maximum comfort.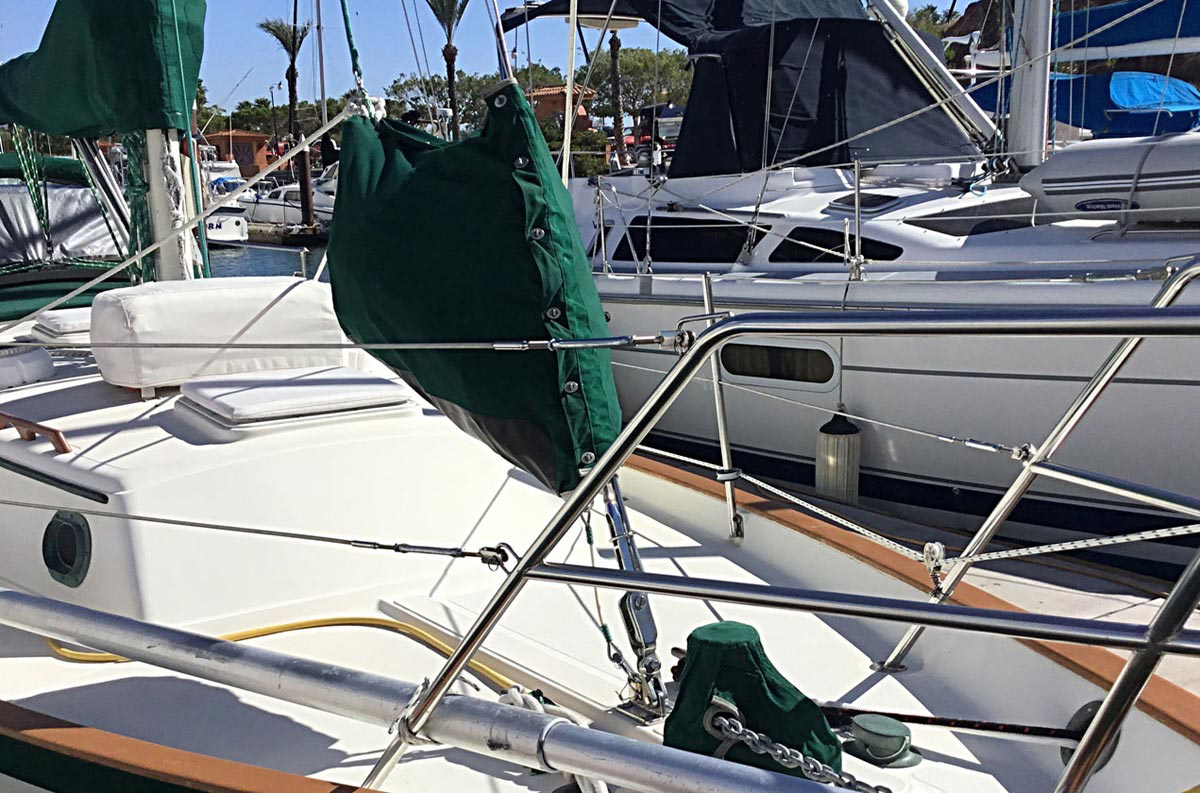 How to stow long objects and buckets
Boat hooks, spinnaker poles, oars for the tender or paddles for the Sup usually make us think harder of where to stow them without getting in the way. Not to mention that on bad weather days they when it gets windy they can also create maneuvering problems. Unless you have articulated, foldable or telescopic components, you need to find a solution to board them safely. Many owners decide to secure these long objects by attaching them to the rail. In this way they free the deck surface, but always remain ready for use. For fixing, you can use cords or fabric bands equipped with straps or even more practical PVC bands with clip closure. The only precaution is to change them periodically because they wear out with the salt air and especially the sun's rays.
Buckets on board can also take up a lot of space. Generally, they are usually closed in a locker with other objects inside, but in this way they must be emptied every time they are needed. Now on the market there are more practical waterproof PVC buckets that can be folded or rigid but telescopic plastic models that solve the problem.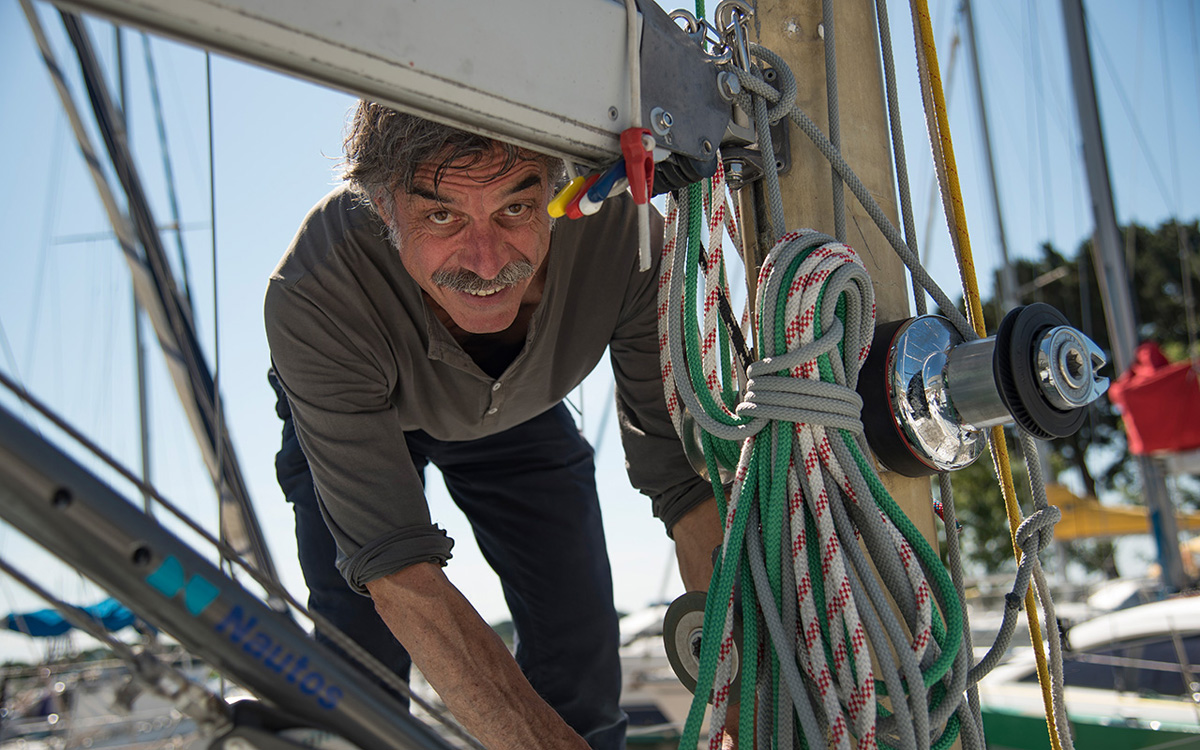 Ropes, sheets and mooring lines
The halyards, sheets and all the ropes on board, including the mooring ones, are as important as the sails, but they weigh and take up a lot of space. It is enough to say that a 12-metre boat that has a mast of about 17 has a halyard that is at least 45-50 m long. If with a standard material, such as polyester, you use a 12 mm halyard, with a hi-tech material, such as Dyneema, you can have the same, if not higher, breaking loads with an 8 mm halyard. But you will also have less weight, less bulk and better grip. A hi-tech rope, in addition to being of a smaller diameter, with the same load allows you to save a lot of weight along the tree, in the above mentioned example the saving is about 30 percent. Less weight along the mast also translates into less heel under sail, less rolling at anchor and therefore greater comfort on board. As an alternative, especially for the mooring lines, there are also  rollers that can be fixed to the stern and bow of the boat where they can be wrapped around the lines and always have them ready for use.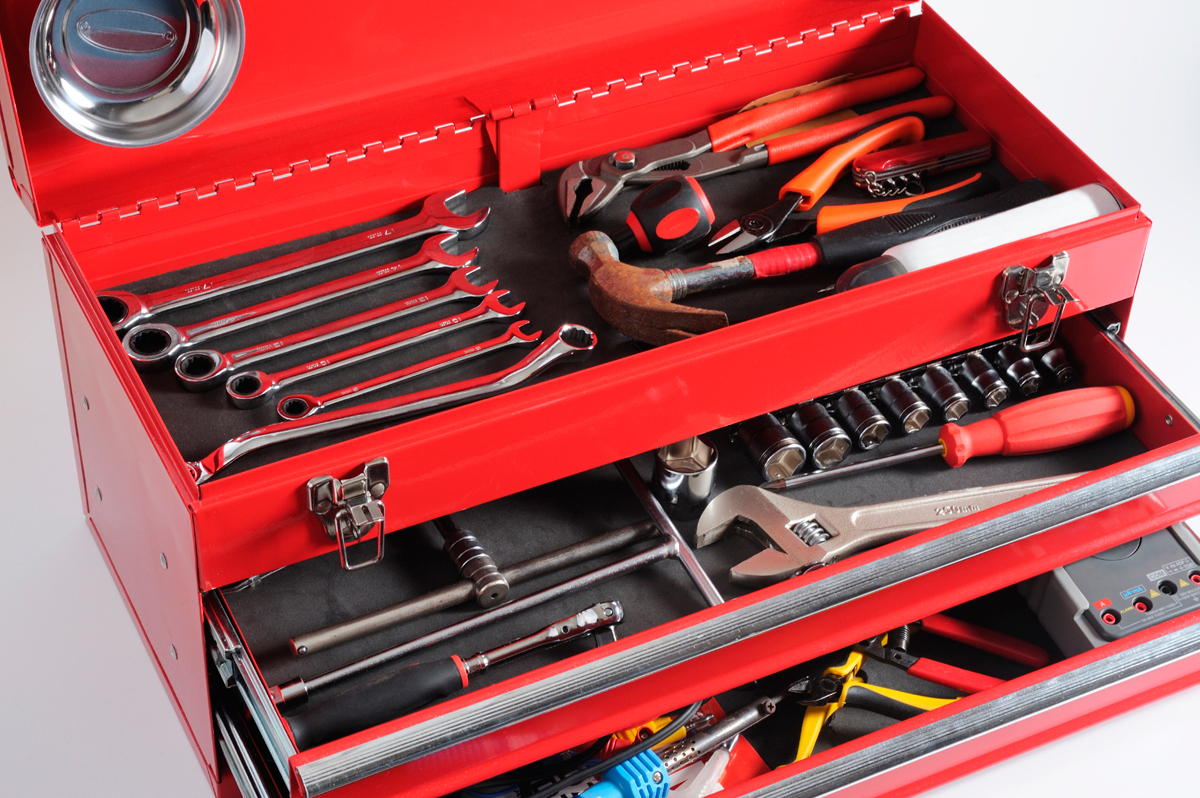 All tools in one box
Repairs, replacements, resolution of breakdowns to systems and equipment are the routine of those who live on boats or practice long offshore voyages. We then need a good amount of tools that allow us to solve the most common problems and carry out small and large do-it-yourself jobs: screwdrivers, wrenches, drills, pliers, wire cutters, saws, vices etc. These are all heavy objects, because they are mostly made of stainless or tempered steel and bulky. Furthermore, tools at sea deteriorate much more than on land: keys, for example, begin by losing the chrome plating that protects them and immediately afterwards they rust, covering themselves with a brown patina. What is needed to protect them but above all to stow them comfortably on board is a dedicated box which must be light and compact, but at the same time rich and well stocked.
It is better to focus on professional products made of shockproof and above all watertight plastic material with hermetic closures and rubber gaskets in order to protect the tools from humidity and slow down the corrosion phenomena. A good toolbox must contain everything, but not much more than necessary because space and weight on board are precious.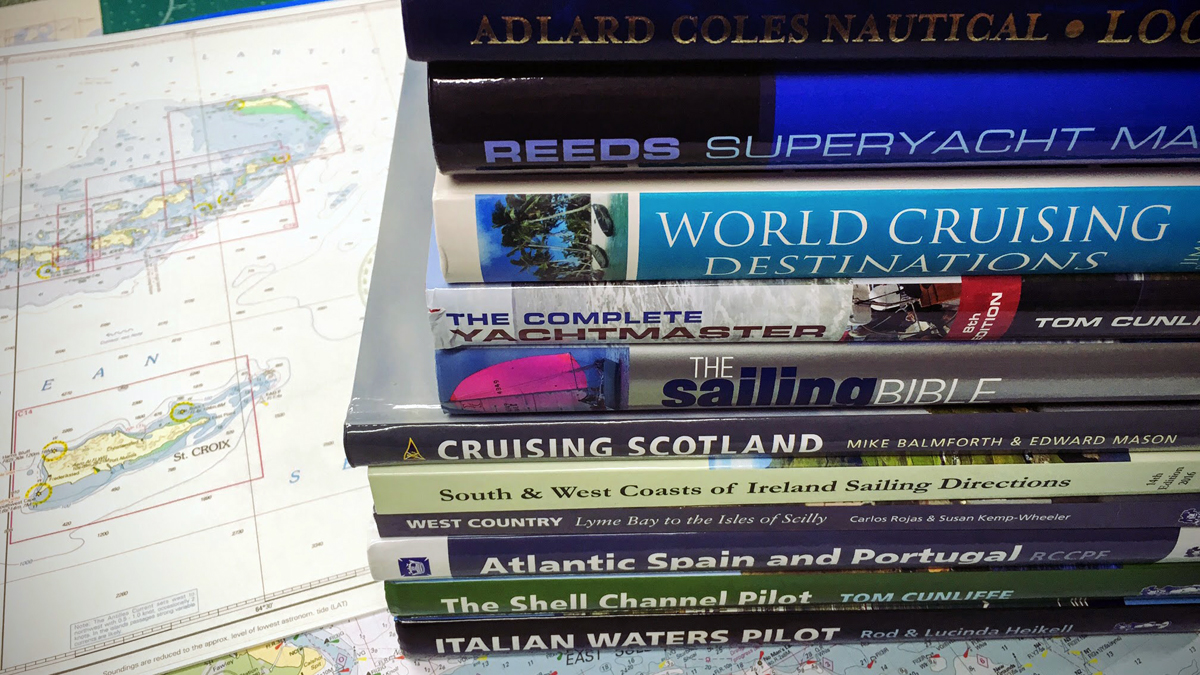 Documents on board should be always in order
Between manuals, certified insurance books, coupons, user and maintenance booklets and various licenses, a large amount of paper accumulates on the boat. To have everything in its place and a place for everything, a good organization of all this material is necessary, which should be carefully collected and divided so that you have everything you need at hand when needed. The temptation to keep all of this documentation together in one bulky block under or near the chart table as often seen on board should be avoided. Why not evaluate the idea of ​​using practical office organizers to have a nice organized subdivision?
For example, a good rule of thumb may be to collect and carefully store the boat's traffic documents, separating them from the rest, so as to have them at hand in the event of checks at sea or upon arrival at foreign landing places. Another order-saving trick can be applied to the various instruction manuals of the various on-board equipment and devices. In fact, these texts are often provided in multiple languages ​​which make them excessively heavy and cumbersome. It would then be good to eliminate the useless parts and perhaps keep only the language that interests us on board.
You May Also Like